The world can be a cold place, especially in Alaska, where temperatures dip well below zero. Alaskans are serious about keeping warm, which is why we are introducing you to Tulikivi™ Soapstone Heat Storing Fireplaces and Bakeovens the ultimate masonry heaters. With more than 100 years of combined experience, we are the soapstone heater and oven experts.
A Tulikivi™ masonry heater allows you to heat your home with wood in a unique way. Wood is burnt quickly, cleanly, and efficiently at high temperatures in a heat-retaining Tulikivi™ fireplace. Most of the thermal energy is retained in the soapstone mass, which continues to radiate heat evenly and steadily long after the fire has gone out.
Upcoming Events
Josephine County Home & Recreation Show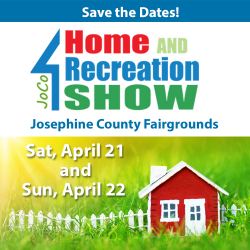 APRIL 21 & 22, 2018
1451 Fairgrounds Rd
Grants Pass, Oregon
Saturday, April 21 • 10am-6pm
Sunday, April 22 • 10am-4pm
Cost (Cash only):
$5 (Ticket good all weekend!)
$1 of every ticket will go to the Grants Pass Marching Band
Kids under 12 free
The JoCo Home and Recreation Show, located in Grants Pass, OR at the Josephine County Fairgrounds, will feature everything from home, garden, outdoor living, recreation and leisure activities!
The 2018 JoCo Home and Recreation Show includes over 120 of home improvement, landscaping and recreation exhibits with product demonstrations and sample interior and exterior vignettes. With a combination of new products and expert advice from the pros, the Home and Recreation Show inspires homeowners with countless ideas on enhancing their home's comfort and functionality, as well as its aesthetic appeal and overall value. Along with all the amazing home exhibits we will also be showcasing outdoor lifestyle including the latest in RVs, boats, quads and more!
You'll have the opportunity to speak directly with experts and receive helpful "insiders" advice to turn your dream home or other home improvement project into a reality.
From foundations to roofs, kitchens to baths, landscaping to interior design – the experts will be here – under one roof – for one weekend! Whether your home is on a solid foundation or a set of wheels, the JoCo Home and Recreation Show is an event you don't want to miss!
Contact us to install a new Tulikivi™ stone heater in your home today.